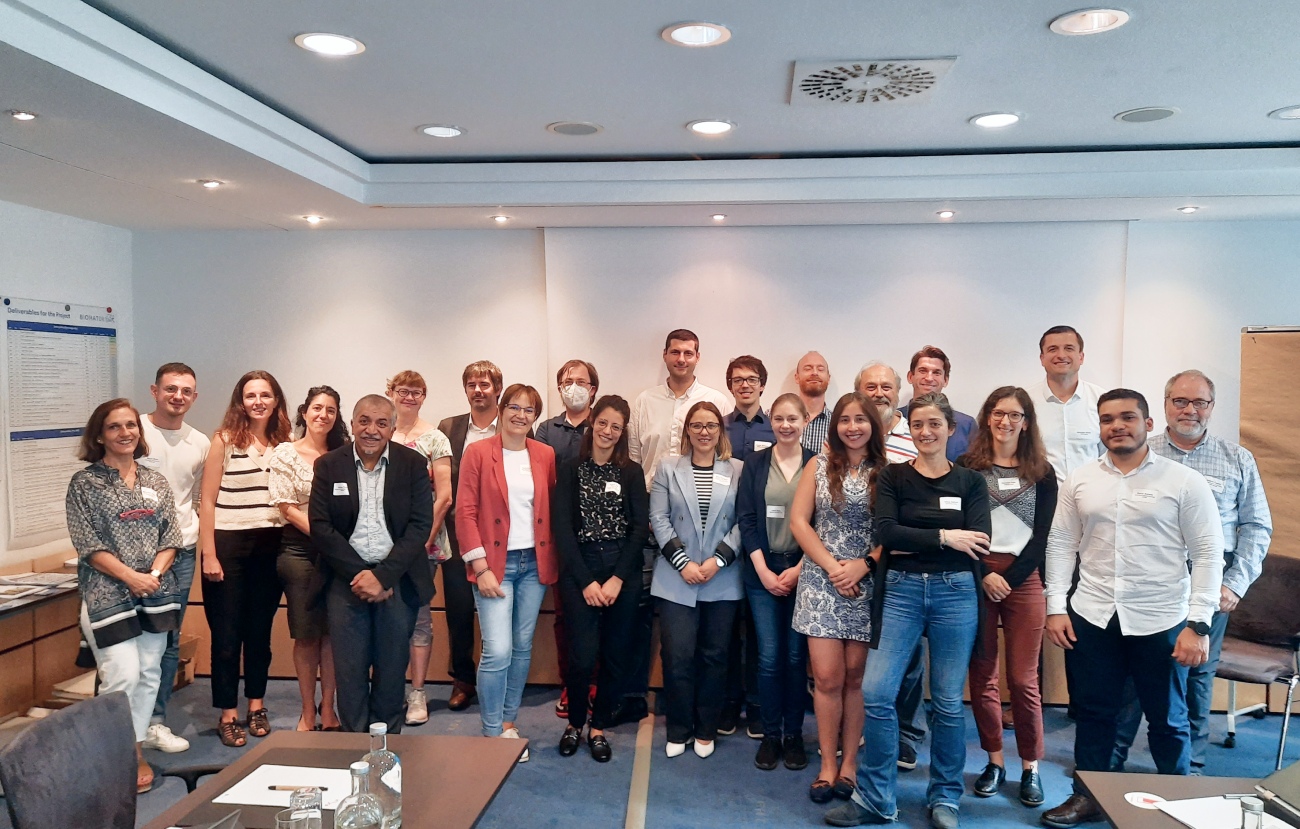 1st BIOMATDB Workshop in Vienna – September 14th and 15th, 2022
On the 14th and 15th of September, SYNYO welcomed all BIOMATDB partners and subcontractors to the Intercity Hotel Vienna for the first BIOMATDB workshop.
During this workshop in Vienna the whole project consortium met for the first time in person. The main aim was to give each other an overview over the project as a whole. The responsible consortium members presented the current status of the project tasks assigned to them and gave an overview over current and future activities. They also addressed any issues or challenges that could potentially affect the completion of the tasks. After each presentation, generous time was set aside for discussion and deliberation to clarify outstanding issues, discuss challenges, and determine and assign future activities to a responsible person.
One important aim of the workshop and precondition for the project was for the consortium members to move toward a common understanding of the terms biocompatibility and biomaterials. Additionally, BSC and SYNYO provided the consortium partners, who have a range of different professional backgrounds, a basic understanding of the computational methods as well as the frontend and backend components that will be used to create the database and an online marketplace. It also gave the biomaterials experts a clearer idea of how their expertise can contribute to and support the technical approaches and led to fruitful discussions.
The workshop also provided the opportunity to discuss the next steps within the project. This included a clear structured material collection and knowledge compilation and a mapping of already existing ontologies, databases or marketplaces in the field of biomaterials. Additionally, it also included discussions on the further development and finalization of the stakeholder surveys. All organizational tools provided by the coordinator SYNYO at the beginning of the project to facilitate communication and for monitoring and controlling the project progress were presented and explained again as well.
For boosting communication and dissemination at an individual level, printed dissemination materials such as rollups, leaflets, stickers, and business cards were distributed. Last but not least, the project's dissemination, exploitation and communication strategy was revised and upcoming events and dissemination opportunities were discussed.
Finally, it should be emphasized that the workshop in Vienna was the first opportunity for all members of the international consortium from more than ten different countries to get to know each other personally. Thus, the workshop was not only a great success on a professional level, but the coffee and lunch breaks also gave a great opportunity for informal communication, which contributed to lay a good foundation for the project by fostering positive relationships, trust and team spirit in the BIOMATDB consortium.